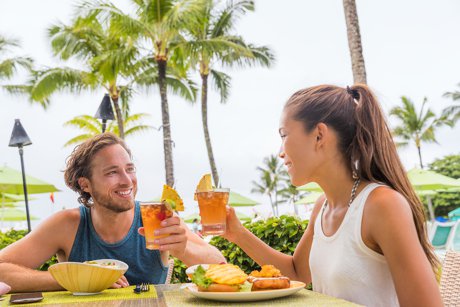 Take to the trails on Maui real estate and indulge in decadence along the way. Tours offered by Local Tastes of Maui combine delicious food tastings with intriguing bits of history. Trekking all about the North Shore and Upcountry, quaint areas of the island are covered. With her own history of education, local guide Cindi Welton perfectly weaves in an array of folklore, tradition and culture into each trip.
Lace up those walking shoes and head out with a big appetite. All tours feature multiple stops at restaurants and eateries as well as historical sites and venues. With multiple options there is plenty to explore. Trips are perfect for travelers new to the Maui real estate area as well as locals wanting to learn more about their homeland.
Explore Maui Luxury Real Estate One Bite at a Time
Life is certainly sweet on the Paia Culinary Tour. Delve deep into the roots of the Paia Sugar Mill with over a hundred years of history. Sample sweet treats at over eight different establishments while getting a glimpse into Hawaii's past. Art is in the eye of the beholder and beautiful sights are seemingly limitless on Maui property. The Makawao Food and Art Tour brings local artists to the forefront. Tourees grab a bite before and after viewing select works of art in a charming gallery or two. The Lahaina Culinary tour is rich in history and in flavor. Those meandering along will hear all about whaling days, plantation times and stories of Lahaina royalty. Stops for subsistence include macadamia pancakes and homemade fudge.
Each tour is unique and thoughtfully designed. Dedicated to offering only the best experiences, this little outfit has repeatedly been awarded the Tripadvisor Certificate of Excellence as well as recognition in Travel and Leisure magazine.
Dine decadently on Maui property and help four legged friends at the same time. Booking a trip with Local Taste of Maui provides funding to island animal charities. Animal activism is a passion of Cindi Welton and she devotedly donates a portion of each ticket purchase to local and worthwhile animal non-profit organizations. Book today.